Deputy Chief of Administration - Raemona E. Williams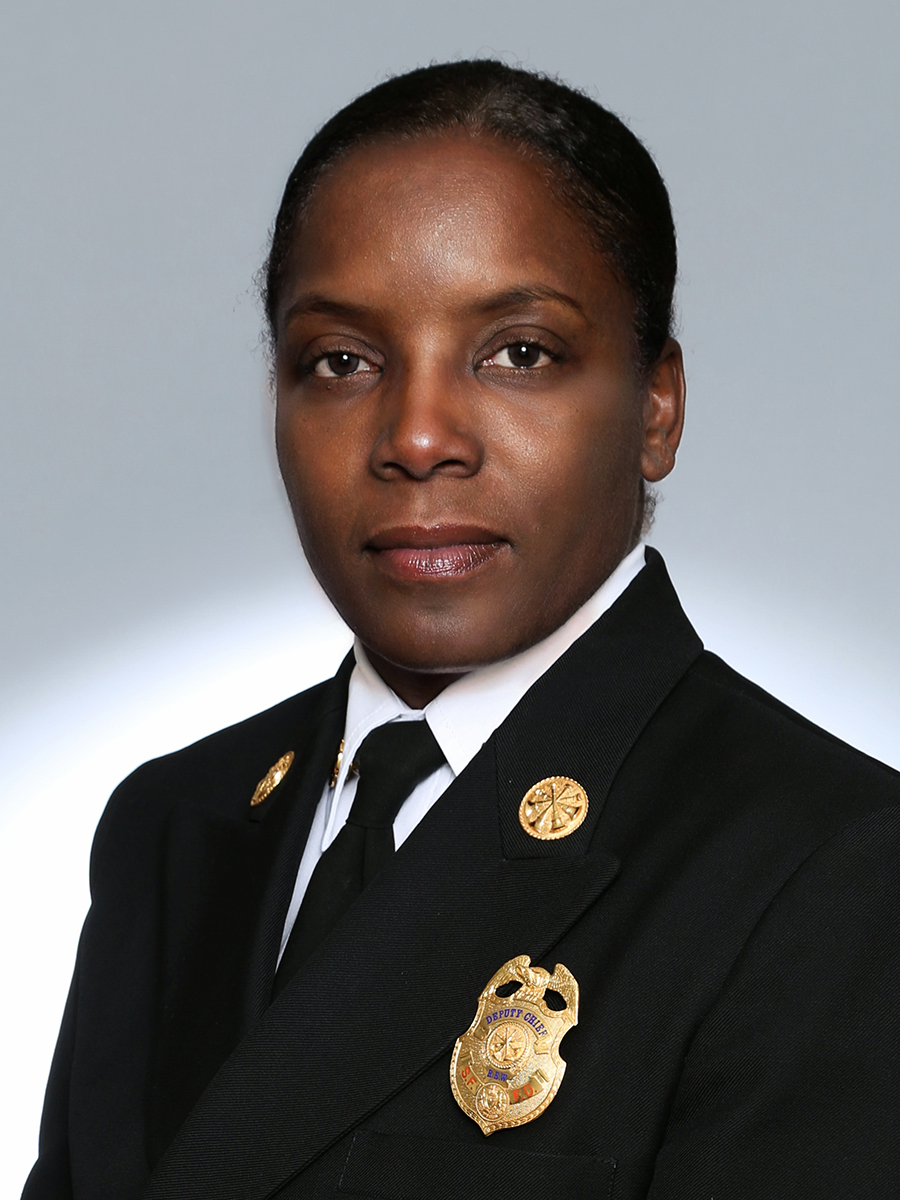 A native San Franciscan, Deputy Chief of Administration Raemona E. Williams entered the Fire Department in 1990.  She has worked at almost every station during her career, and has spent over twenty-three years in the field working her way up the ranks from Incident Support Specialist to Battalion Commander at one of the busiest districts in the City.  Prior to her appointment to Deputy Chief, she was appointed Assistant Deputy Chief, Director of Training in 2014.
Over the course of her career, Chief Williams has been an active member of various committees within the Department, and has shared her expertise with other agencies as a Grant reviewer (NFA), and an assessor at various Departments throughout the country.  During her career she has also been assigned as an instructor at the Division of Training, NERT, SFFISE, and read aloud programs.   She has taken numerous State Fire Marshal classes and continued to gain additional knowledge and skills by furthering her education at St. Mary's College where she received a BA in Business Management.  
While assigned as Assistant Deputy Chief, Director of Training, Chief Williams oversaw the completion of three Recruit academies as well as all training within the Department.  Prior to her appointment as Deputy Chief, she oversaw the initiation of the accreditation process which has since resulted in the Department receiving recognition as an Accredited Local Academy (ALA) throughout the State of California.  The accreditation not only benefits our members within the Department, but also acknowledges our training curriculum is recognized by the State Fire Marshal office.
Chief Williams was appointed to her current position in January 2016.  As Deputy Chief of Administration she oversees the Finance Division, Division of Homeland Security, Human Resources Division, Investigative Services Bureau, Management Information Services, the Department Physician's Office, the Division of Support Services, and the Division of Training.  She also sits on the Approval Authority Board for the Urban Area Security Initiative for the Bay Area counties.