Assistant Deputy Chief - Frank Cardinale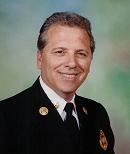 Assistant Deputy Chief Frank Cardinale has over thirty years of experience with the San Francisco Fire Department. He started his career as a Firefighter in 1975, promoted to Lieutenant in 1988, Captain in 1992, Battalion Chief in 1994, and Acting Division Chief in 2003. Chief Joanne Hayes-White appointed him Director of Training in 2009.
Chief Cardinale is a native San Franciscan and attended St. Ignatius High School, City College of San Francisco, where he received a degree in Fire Science, and California State University Long Beach, where he received a degree in Vocational Education. Chief Cardinale is a certified Chief Officer through the California State Board of Fire Services.
Chief Cardinale has attended many classes at the National Fire Academy and is an adjunct instructor in many Command and Control, High Rise, and Fire Protection Systems classes there. He helped update the curriculum for the National Fire Academy class Incident Command for High Rise Operations, and is currently working with both FIRESCOPE and the International Fire Service Training Association in developing new fire ground procedures for high rise firefighting. He is additionally qualified to teach many State Fire Marshal classes.