Assistant Deputy Chief - Mark S. Kearney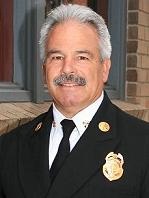 Division of Homeland Security's Assistant Deputy Chief Mark Kearney entered the Fire Department in 1982. He has risen through the ranks having worked as a Lieutenant, Captain, and Battalion Chief at various Fire Stations throughout the City. ADC Kearney has participated in strategic workgroups and committees over the course of his career. As the Department's Transit Committee Chairman, he conducted Fire Department and multi-agency exercises and drills related to BART, Muni, and Caltrain. He is currently a member of the Fire Liaison Committee, overseeing the safety of firefighters in transit-related incidents.
A native San Franciscan and Sacred Heart High School graduate, ADC Kearney received an Associate's Degree from San Francisco City College in Construction Management, a Bachelor's Degree from San Francisco State University in Business Administration (Accounting), and a Master's Degree from Long Beach State University in Emergency Services Administration. He has attended classes at the National Fire Academy and has received several certifications related to the fire service including Hazardous Materials Specialist, Terrorism Liaison Officer, and Fire Officer Certification.