Christmas Tree Disposal & Recycling in San Francisco - December 29, 2009
Christmas tree collection will take place in San Francisco Monday through Friday, January 4th – 8th and the following week, January 11th – 15th.

Please place clean, unflocked trees next to your bins when you take them to the curb for your regularly scheduled pick-up. Please DO NOT pile discarded trees on the street corner.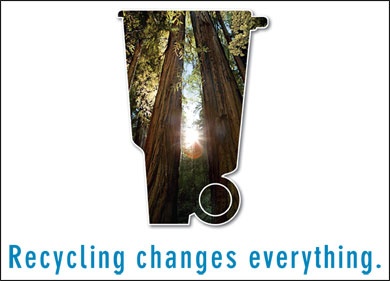 Be sure you REMOVE ALL tinsel, decorations, plastic bags, stands and lights. Trees that have decorations including tinsel WILL NOT be picked-up.
If your tree is more than 6-feet in length, please cut the tree in half before placing it by your bins for pick-up.

This service is available to current customers of SF Recycling & Disposal Company, Golden Gate Disposal Company and/or Sunset Scavenger Company. Make sure you place the tree in front of YOUR street address next to your bins, and NOT on the street corner.

Trees will be chipped at the Recology transfer station and recycling center at 501 Tunnel Avenue, SF. The wood chips will be transferred to Tracy, CA where they will serve as biomass (boiler fuel) in a waste-to-energy facility.

Residents may also drop off their trees at:
900 7th Street - Golden Gate Disposal & Recycling - 8am to 4:30pm - until January 15th

501 Tunnel Avenue - Golden Gate Disposal & Recycling - 8am to 4:30pm - until January 15th

780 Frederick Street - Haight Ashbury Neighborhood Council Recycling Center - Mon thru Sat, 9am to 4pm - until January 17
For questions, please call: Sunset Scavenger (415) 330-1300; Golden Gate Disposal & Recycling (415) 626-4000; or SF Recycling & Disposal (415) 330-1400.

For questions about the Christmas tree wood chip composting program, please contact Recology at (415) 875-1000.