Fire Station Open House Day - October 15, 2011
San Francisco Fire Stations hold Open House Day (PDF)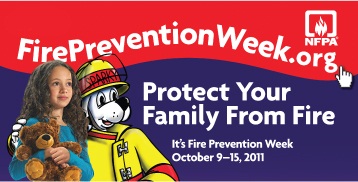 In recognition of National Fire Prevention Week, October 9 - 15, 2011, each Fire Station will hold a "Fire Station Open House Day" on October 15, 2011, from 1:00 p.m. to 5:00 p.m. This year's theme is "Protect Your Family From Fire". Residents and visitors of San Francisco are encouraged to stop by a local fire station where Department members will be handing out fire safety information, giving tours of the public areas of the fire stations, and performing blood pressure screening.

To find a Fire Station in your neighborhood, go to: SFFD Fire Station Locations

National Fire Prevention Week was established to commemorate the Great Chicago Fire, the tragic 1871 conflagration that killed more than 250 people, left 100,000 homeless, destroyed more than 17,400 structures and burned more than 2,000 acres. The fire began on October 8, but continued into and did most of its damage on October 9, 1871.
In 1920, President Woodrow Wilson issued the first National Fire Prevention Day proclamation, and since 1922, Fire Prevention Week has been observed on the Sunday through Saturday period in which October 9 falls. According to the National Archives and Records Administration's Library Information Center, Fire Prevention Week is the longest running public health and safety observance on record. The President of the United States has signed a proclamation proclaiming a national observance during that week every year since 1925.