Honoring Local Heroes (49er's Article) - September 12, 2007
(from San Francisco 49er's Website)
http://49ers.com/pressbox/news_detail.php?PRKey=3395&section=PR%20News
Six years after the terrorist attacks of September 11, the 49ers showed that not only have they not forgotten those who lost their lives that day, but that they remember those who still protect and serve our communities, risking their lives to keep us safe.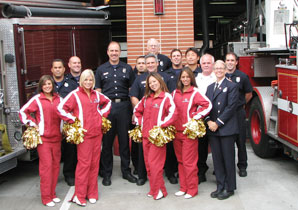 On Tuesday, members of the 49ers Gold Rush cheerleading squad surprised San Francisco Fire Department Station #5 in the Western Addition with a hearty breakfast, a signed and framed Alex Smith jersey for their firehouse and a 49ers tailgating BBQ, all to say thanks and show their appreciation and respect for the job they do.
"September 11, 2001, is a day that will forever be seared in our memories, said Lieutenant Mindy Talmadge of the SFFD. For those in the fire service, it is a day that many or our brothers and sisters made the ultimate sacrifice. We will never forget that. We appreciate the 49ers organization for taking the time to acknowledge the commitment that the men and women of the San Francisco Fire Department have made. We take our oath of service to heart. If this means making the ultimate sacrifice, that is what we'll do."
The gesture by the 49ers was the least they could do to for one of the City's busiest fire stations, and one that is filled with some of the biggest 49ers fans.
The Gold Rush were treated to a tour of the firehouse and a ride around the block on the station's fire engine.
It's important to show our support for this community, said first-year Gold Rush member, Hannah. We are all from around California so it's nice to go around to the local police and fire stations and just say that we appreciate them and remember those who were lost.
The group then headed to the South Bay where they paid a similar visit to the Santa Clara County Sheriff's Department and presented them with lunch, a signed and framed Vernon Davis jersey, and their own 49ers tailgating BBQ.
I think on a day like today we remember why we do this job, said Sergeant Ed Wise of the Office of the Sheriff, County of Santa Clara. We remember the losses that we encounter and we stay vigilant with our duties. We reflect on them. This recognition really lets us know that we are appreciated and it's wonderful that we are able to do something like this.
Tragedy could strike at any time and through the courage, determination and hard work of these men and women we can all rest assured knowing that they have our backs.
It's important, not only on 9/11 to recognize both men and women, police officers and firefighters who gave their lives on that day, but also to acknowledge those men and women who are still protecting and serving in our communities and keeping us all safe, said Sidney Griffin, Director of Community Relations for the 49ers. We wanted to try to honor them in some way without disrupting their day to show them that we appreciate their efforts and what they do for us.
by Kat Madariaga