Community Paramedicine
Community Paramedicine is a creative approach to providing care to communities. San Francisco's Community Paramedicine programs allow us to collaborate with other City agencies and provide tailored services to traditionally under-privileged populations of the City, some of whom are not served best by the standard emergency care system.
Our Community Paramedics, led by Chief Simon Pang, provide proactive, compassionate, and respectful care that connects people to appropriate resources for their medical, mental health, and social needs. Our teams can assist in providing immediate stabilization of medical and behavioral health emergencies, as well as helping our community to navigate an often-confusing array of services for those not experienced in obtaining care. This means helping to connect people to housing, primary and mental health care, detox services, pre-hospital treatment plans, and virtually any other service that can assist our populations in need. We advocate for those who may have difficulty fending for themselves.
The San Francisco Fire Department has two Community Paramedic programs, EMS-6, which focuses on the highest users of the emergency care system, and the Street Crisis Response Team (SCRT), which responds to individuals experiencing behavioral crises.
EMS-6
San Francisco Fire Department's EMS-6 program has been in existence since 2004. It focuses on people who, for whatever reason, frequently use the 911 system. We include in that group anyone who uses City emergency services four or more times in a 30-day period, or ten or more times in a 12-month period. Our team meets these vulnerable individuals wherever they may be—on the scene of an emergency, at hospitals, or in the community—and provides intensive, wrap-around care to connect them to appropriate resources. Our goal is to break the cycle of people who rotate from the street to the emergency room and back to street. This can involve resources such as shelters, emergency psychiatric services, or substance use detox and treatment facilities.
While finding the right resources for our City's residents, the EMS-6 program consequently helps to decrease the strain on the 9-1-1 ambulance and hospital systems. This means getting people to the care they need and creating more capacity for our City as a whole to respond to emergencies.
In addition to its core functions, EMS-6 has been responsive to the needs of the City of San Francisco during the COVID-19 pandemic assisting with a host of new duties. During our involvement, EMS-6 has:
partnered with providers from the Department of Public Health to screen members of the community for COVID-19 symptoms, and evaluated clients at Shelter in Place and Isolation and Quarantine sites to avoid unnecessary ER visits;
responded as task force leaders to stabilize facilities experiencing severe staffing shortages, such as skilled nursing and elderly facilities;
supported staff at an isolation and quarantine site for individuals with alcohol use disorder;
provided site management at mobile testing sites;
administered COVID-19 testing in the field; and
prepared to respond as COVID-19 first responders and to provide staff for field clinics in the event of increased pandemic surge levels.
Street Crisis Response Team
Following a comprehensive review of the City's response to those experiencing behavioral health crises, the City tasked the Fire Department to partner with the Department of Public Health to form the Street Crisis Response Team. Our goal is to provide a trauma-informed response to individuals in behavioral health crises and to serve as the point of entry for care for a variety of services. The teams consist of a specially trained SFFD Community Paramedic, a behavioral health clinician, and a peer support specialist. This collaborative approach is designed for those people in crisis who do not necessitate a law-enforcement response. In addition to the initial therapeutic care delivered on-scene by team members, our team connects people with continued treatment, including psychiatric urgent care, sobering centers, social detox programs, withdrawal management, respite, shelter, and other services.
Like our EMS-6 program, the Street Crisis Response Team provides the appropriate resources for our City's residents in need, while at the same time decreasing the strain on the 9-1-1 ambulance and hospital systems, as well as public safety and law enforcement.
The first Street Crisis Response Team was launched by the City on November 30, 2020. Upon full implementation, the Street Crisis Response Team will be operational citywide, 24 hours per day every day of the year.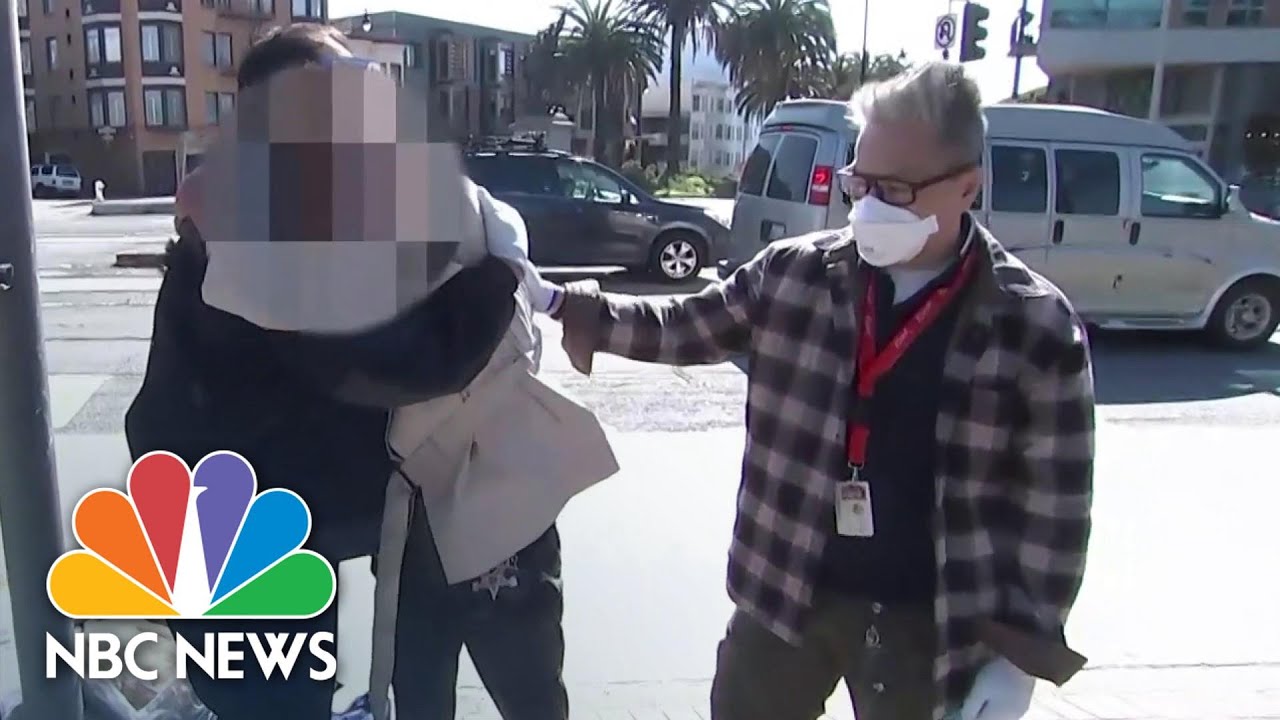 Click image to watch video about our Street Crisis Response Team, which launched in February 2021.
Street Crisis Informational Flyers