Shop SF-Get More
As part of Mayor Newsom's economic stimulus plan, San Francisco has developed a city-wide incentive program, Shop SF-Get More, to encourage local and Bay Area residents to visit, shop, and stay in San Francisco during December and January. The campaign offers special discounts and promotions exclusively for residents of the nine Bay Area counties.
Shop SF-Get More runs from November 19, 2009 to January 31, 2010.
Information on the Shop SF-Get More campaign will be found at: www.onlyinsanfrancisco.com/shopsf
Promotions
Show Your Zip Code: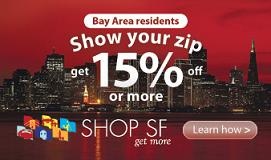 Residents in the nine Bay Area counties (San Francisco, San Mateo, Marin, Napa, Sonoma, Contra Costa, Alameda, Solano and Santa Clara) are eligible to receive special discounts, "friends and family rates," and other incentives when they show their ZIP code (94000 through 95100) at participating merchants. To honor the discounts, participating merchants will simply ask customers to "Show Your ZIP" in the form of a driver's license, business card, or other proof of residence. We have 150 local merchants offering special promotions on hotel accommodations, shopping, meals, cultural attractions, theatre tickets, and more.

Parking and Public Transit Discounts:
(Runs 11/ 19/09 to 12/27/09) The campaign offers two transit incentives to encourage locals and visitors to take advantage of everything that Shop SF-Get More has to offer.

Sunday FunDay Pass:
Locals and visitors can ride Muni and explore San Francisco on one transfer all day, every Sunday.

Ride with More, Park for Less:
Cars entering designated city-owned parking garages between 10 a.m. and 6 p.m. get 1 hour validation for cars with three persons and a 2-hour validation for cars with four persons. Participating garages including: Sutter Stockton, Union Square, Ellis O'Farrell, 5th & Mission, Lombard St., Mission Bartlett & Civic Center (Civic Center on weekends only).

Standard Marketing:
MUNI: Shelters, Bus Tails and Queens, and banners in the MUNI stations.
Billboard: Van Ness and Filbert (through December 31)
SFO: Posters (one right at the main BART stop)
SFGate.com: Banner Ad 11/ 20 – 26
Chronicle: 8 - ¼ page ads in the Sunday issues starting 11/22
Yelp: Promotion in the Weekly Yelp (4 times) total target 630K
BART: Announcement in the Weekly e-newsletter and ticker at stations
SFCVB: to market to outlying 8 counties.

Mobile to Social Media Marketing:
MOBILE SPINACH: a San Francisco-based mobile social marketing service, will communicate the "Show Your ZIP" offers via text to their members' cell phones. Participating merchants will receive in-store displays, alerting shoppers that they can text the business' name to Mobile Spinach and receive details of the offer on their phone.
FOURSQUARE: a location-based social network to encourage users to take advantage of the "Show Your ZIP" offers. foursquare creates applications for mobile phones that use game mechanics to reward people for discovering new places and experiencing new things. Users earn points, win "mayorships" and unlock badges for "checking-in" at various venues. Participants that check into 3 or more ""Show Your ZIP" business or museums, will be eligible for a drawing for prizes. (3 Drawings throughout the campaign.)

Sponsors: The Mayor's Office of Economic & Workforce Development, The Office of Small Business, San Francisco Convention & Visitors Bureau, San Francisco Chamber of Commerce, SFMTA, BART
San Francisco Hotel Council, Mobile Spinach, foursquare, Yelp, Chronicle | SFGate.com.