Division of Training
The San Francisco Fire Department's Division of Training is broadly divided into 4 areas, Recruit Training, In-Service Training, Special Operations and EMS Training spread over 2 campuses.
Recruit Training
All initial hires must first pass through our Firefighter Recruit Training Academy.  This academy runs 20-weeks and meets all State Fire Marshal and NFPA Standards for Firefighter I certifications.  Our Academy recently achieved the status of an Accredited Local Academy, one of only 12 in the entire State of California.
Over the twenty weeks, recruits are exposed to EMS, Firefighter, Engine Driver, Truck Driver and Tiller Operator training.  Recruits will leave our accredited academy with the following certifications: S-190 Introduction to Wildland Fire Behavior, Confined Space Rescue Awareness, Firefighter Survival, Hazardous Materials First Responder Operational and all academic and skill requirements for California, IFSAC and ProBoard Firefighter-1 certification.
The instructor cadre at the Recruit Academy consists of experienced Training Lieutenants, certified as Instructor 1 and trained in Ethical Leadership in the Classroom.  The cadre is managed by our Recruit Training Captain.
The recruit training cadre monitors and trains the recruit classes long after their academy graduation.  Upon graduation, the recruit will work a 12 month probation, 6 months on an Engine Company and 6 months on an Aerial Truck Company.  They will be periodically rotated to the Division of Training for probationary drills and for their 6-month and 12 month probationary tests.
Completion of the academy and probation is only the beginning, as a fire service career is one of lifelong learning.
In-Service Training
Our In-Service Training branch manages and conducts the training of all the fire companies in the city, which includes 44 engine companies, 20 aerial truck companies, 2 rescue squads, 9 battalion chiefs, 2 division chiefs and other specialty units.
Firefighters have mandatory training that is required to be completed in order to maintain knowledge and technical proficiency of their very dynamic career.  Among those includes conducting live fire training under realistic conditions to best prepare the crews for the dangers of the job.  In-Service training also conducts unit specific training, like aerial ladder operations, elevator rescue training, rail car rescue, gas and electrical utility control and many more subjects.
Special Operations
As the San Francisco Fire Department is an all-risk organization, there are other training disciplines that require attention and maintenance of skills.  In addition to having 2 heavy rescue units, and over a dozen surf rescue designated companies, SFFD has a 24 hour on-duty hazardous materials response team and one of only 3 24-hr on-duty Dive Rescue teams in the Bay Area.
San Francisco Fire Department units require annual training in subjects of technical rescue, auto extrication, hazardous materials incident response and mitigation, surface water rescue, boat operations and dive rescue.
These additional training requirements on certified members often requires multi-agency coordination with units from neighboring fire agencies, US Military units including the United States Coast Guard, SF Police Department, SF Sheriff's Department and the National Park Service.
Our Special Operations Training Captain coordinates all the inter-agency and specialty training, in accordance with State, National or Industry specific standards.
EMS Training
The SFFD in-service training site is an approved State recognized Continuing Education Provider for it's over 1500 EMT's and Paramedics.  To ensure quality emergency patient care for all citizens and visitors of San Francisco, all SFFD members receive continual medical refresher training and updates on new medical practices and equipment as mandated by policy and protocol of the San Francisco EMS Agency.
As a Continuing Education Provider, the SFFD in-service training site upholds National and State EMS standards when conducting refresher training and skills testing.  Topics such as multi-casualty incidents and weapons of mass destruction, respiratory and cardiac emergencies, traumatic and medical emergencies, and childbirth and pediatric emergencies are covered.  In addition, SFFD paramedics receive specialized medical oversight from the Department's Medical Director.  To maintain medical licensure for all Department members, 24 hours of Continuing Education are provided every 2 years for our EMT's, and 48 hours every 2 years for our paramedics.
The SFFD in-service training site is also an approved American Heart Association Training Site which conducts required recertification courses for all SFFD members in CPR, and recertification for all paramedics in Advanced Cardiac Life Support (ACLS) and Pediatric Advanced Life Support (PALS) every 2 years.  All EMS training staff members are certified CPR, ACLS and PALS Instructors.
Facilities
SFFD DOT features two campuses that host the majority of fire department, rescue and EMS training.  Some specialty training occurs off-site. 
Wildland Firefighting training occurs in the park areas near Yerba Buena Island and McLaren Park.
Public Safety Diver and Surf rescue training occurs off-site at San Francisco Rec & Park swimming pools, Hyde Street Pier, Ocean Beach and China Beach.
Our classrooms are equipped with High Definition Televisions that can connect with any computer.  In addition, one classroom at TITF houses the computer lab with 28 individual work stations for computer based learning and testing.
The San Francisco Fire Department works with local tow and wrecking companies that deliver vehicles for extrication training as needed to both training locations.
19th/Folsom (The Tower)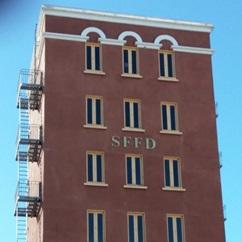 The San Francisco Fire Department Division of Training Tower includes two large classrooms, a drill tower, a driver simulator, pump drafting pit, low pressure & high pressure training hydrants, forcible entry doors, search mazes, rope rescue, confined space and hazardous materials props and all associated office and locker facilities. There are also multiple pitch roof props located at the DOT Folsom Street location.
The training tower is serviceable with a full basement and seven stories above ground. Fire escape and stand-pipe operations are possible as well as exterior and interior stairwell fire attack.
The Driver Simulator is designed to seat 2 students in individual simulated truck or engine positions. The computer programs allow the proctor to alter the road conditions, traffic and response driving scenarios.
Treasure Island Training Facility (TITF)
SFFD Division of Training and Treasure Island Training Facility is one of only four training sites in Northern California certified to host State Fire Training Rescue Systems I, Rescue Systems II, and Confined Space Rescue Technician.  The site is also equipped with capabilities to teach certified Firefighter Survival and Rapid Intervention Crew Operations classes.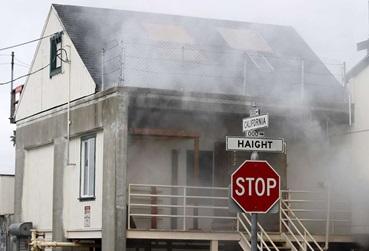 A propane burn room is available at TITF for annual live burn requirements, battalion based drills and return to work training.  In the burn room building, there are multiple ventilation props to simulate various roof types seen across the city of San Francisco.
This facility has recently seen major efforts and upgrades to simulate very realistic, San Francisco construction and features of emergency response in the city.  Among those upgrades includes a simulated BART station which can be used to mimic emergency response to any of the 107 miles of tracks between the 45 BART stations Bay Area-wide.
There are various props for HazMat training which includes a liquid/gas train car, a valve and piping assemblies and various other specialty props.
This site is not only used for training SFFD crews, but has been used by agencies from all over Northern California looking for a challenging and realistic training opportunity.
Neighborhood Emergency Response Team (NERT)
SFFD's Neighborhood Emergency Response Team is one of the flagship programs, related to the FEMA program, CERT.  Over the program's history, SFFD NERT has trained over 27,000 citizen responders.  The program proudly boasts winning the California Governor's Volunteering & Service Award, as well as receiving the 2016 Individual and Community Preparedness (ICP) Award for Whole Community Preparedness from FEMA.
NERT is a free training program for individuals, neighborhood groups and community-based organizations in San Francisco.  Through this program, individuals will learn the basics of personal preparedness.  The training includes hands-on disaster skills to help individuals respond to a personal emergency as well as act as members of a neighborhood response team.
Residents of San Francisco can receive this free training in locations across the city, taught by experienced and well-trained SFFD Firefighters & NERT Instructors.
For more info, visit: http://sf-fire.org/neighborhood-emergency-response-team-nert
Recruitment
The Recruitment Coordinator for the Department, assists both individuals and groups gain insight into successfully navigating the application process for entry level positions in the SFFD.  Recruitment Coordinator routinely hosts SFFD Career Information Sessions, held the 3rd Thursday of every month at designated locations throughout San Francisco, as well as attending community events held throughout San Francisco and the greater Bay Area.  Our Recruitment Coordinator is also working with the San Francisco Unified School District, CCSF Fire Science and EMT Instructors, as well as the Department of Human Resources on developing strategies to reach qualified applicant pools.
Our current recruitment coordinator is available to meet with you, your organization or anyone interested in knowing about our hiring process.  If you have an idea or an event in mind, please feel free to contact us at:
Email: FireRecruitment@sfgov.org
SFFD Reserves
The San Francisco Fire Department Reserves is an auxiliary force for the Fire Department.  The Reserves recently celebrated their 75th anniversary, as they've been proudly serving the citizens since 1941.  
The Fire Reserves are a volunteer force designed to supplement the fire department with San Francisco residents willing and able to assist in emergencies.  All Fire Reservists are sworn volunteer firefighters.  Typically, the Fire Reserves respond to any fire that reaches a "3rd Alarm" or greater.  They have assisted crews with hoses, raising or lowering ladders, operating master streams, salvage and overhaul, air refilling and more.  The Fire Reserves has supported the Department by functioning as EMTs during large citywide events.
The Reserves are a volunteer force meant to supplement the fire department with San Francisco residents willing and able to assist in emergencies.  All Fire Reservists are sworn volunteer firefighters.  Typically, reserves respond on any fire that reaches a "3rd Alarm" or greater.  They can assist crews with hoses, raising or lowering ladders, salvage and overhaul, air refilling and more.  The Fire Reserves have supported the Department by functioning as EMTs during large citywide events.
The SFFD Fire Reserves go through an application and oral board interview process where they must show proof of San Francisco residency.  All Fire Reservists must be either an EMT-Basic or EMT-Paramedic.  After they are selected, they must graduate a reserve academy and then attend weekly training sessions on Thursday nights taught by SFFD training lieutenants.  The Fire Reservists are expected to respond to greater alarm fires when notified in their personal vehicles.  Fire Reservists must respond to a minimum of 3 greater alarm fires before they are issued a badge.  After serving a minimum of 2 years, Fire Reservists that possess a Firefighter 1 training certification are able to get signed off on their State Firefighter 1 Certification.
For more information, visit http://sffd-fire-reserve.org/index.htm