Fire Safety Information for Building Residents/Tenants
Monthly Fire Safety Tips:
Welcome to "Monthly Fire Safety Tips"!  We will be bringing you information on a monthly basis that can save your property and most importantly...YOU AND YOUR FAMILYS' LIVES!  We would first like to introduce you to our "Home Safety Checklist". 
Home Safety Checklist - USFA (April 2017).pdf
Our checklist is brought to you by the U.S. Fire Administration and the San Francisco Fire Department.  We will be bringing you monthly tips from our checklist and other relevant information in regards to fire safety.
So let's begin!  This month we will be covering the topic of "Electrical Safety in the Home".  Click here to Read More...
New Fire Safety Requirements:
Did you know..?
In August 2016, the San Francisco Board of Supervisors passed new legislation aimed at promoting fire and life safety, reducing the risk of fires, and preventing property damage from fires.  These laws establish new requirements for the owners of residential buildings.  Requirements vary based on the number of building residential units and fire alarm system requirements of existing buildings.  Non-compliance with these new fire safety requirements may lead to violations of the San Francisco Fire Code. 
The San Francisco Fire Department is here to help building residents/tenants understand the new requirements enacted by the San Francisco Supervisors.  Details of the requirements are provided below.
Annual Smoke Alarm Information Notice
List of Tenant's Rights Organizations
Tenant Fire Safety Disclosure Information  (UNDER REVISION)
Posted Disclosure Information  (UNDER REVISION)
For more information, go to: www.sf-fire.org/new-fire-safety-requirements-building-owners 
 
Search Your Address for the Statement of Compliance and More:
San Francisco Fire Permits Data Map (links to an external independent website)
To search for data, enter address and click on location dot.  Information available on the SF Fire Permits Data Map includes:
Fire Permits from 01/01/1983
Fire Complaints and Violations from 01/01/2010
Fire Inspections from 01/01/2014
Statement of Compliance (for required Apartment Buildings with Fire Alarm Systems)
Additional data available from SF Department of Building Inspection and SF Planning Department
Monthly Fire Safety Tips (continued):
Electrical safety involving outlets, plugs and extension cords is one of the most important home safety issues.  U. S. fire departments respond to an average of 47,820 structure fires a year involving an electrical fire or malfunction, but there are steps that homeowners and tenants can take to help prevent electrical fires.
OUTLET SAFETY TIPS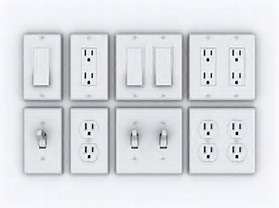 Turn off appliances before unplugging them to avoid a "hot unplug" which can result in an arc inside that could create a fire hazard.
Install tamper-resistant (TR) receptacles in outlets near where children will be present.  These outlets contain an internal spring-loaded shield that requires even pressure on both sides of the outlet to access the electrical contacts. 
When plugging an appliance into a receptacle outlet, make sure you read and follow the manufacturer's instructions.
Only one high-wattage appliance should be plugged into a receptacle outlet at a time.
Only one heat-producing appliance, such as a toaster of coffee maker, should be plugged into a receptacle outlet at a single time.
To help protect against shock hazards, make sure you install ground-fault circuit interrupters (GFCIs) in the kitchen, bathroom, laundry room, basement, garages, outdoor areas and other places where electrical equipment is near water or can get wet. 
To help prevent fires, have a qualified electrician install arc-fault circuit interrupters (AFCIs), which can help protect against fires that result from problems in home wiring, such as arcing and sparking.
POWER AND EXTENSION CORD SAFETY TIPS
Be aware of the fire risk that damaged power cords pose, and the fact that extension cords are only intended for temporary use.  Consider having a qualified electrician add additional circuits or outlets so you do not have to use extension cords.
Replace damaged or loose electrical cords as they can increase the risk of electrical shock or cause arcing or overheating, which can lead to a fire.
Do not use an extension cord with major appliances.
Do not run extension cords under carpets.
OTHER SAFETY TIPS
Never place anything that can burn (i.e., towels, scarves) over a lamp or heat-producing appliance.
Remember to use lightbulbs with the correct wattage to help prevent overheating.
CALL A QUALIFIED ELECTRICIAN IF YOU HAVE
Warm-to-the-touch wall outlets or switches.
Fuses that regularly blow or circuits that often trip.
Appliances that smell rubbery or as if they are burning.
Lights that dim or flicker.
Appliances that spark.
HOME ELECTRICAL SYSTEM SAFETY - VIDEO