Fire Safety Information for Building Residents/Tenants
Monthly Fire Safety Tips:
The Winter holidays are a traditional time for celebrating and decorating.  But that also means a greater risk for fire.  Remembering a few simple facts and following a few tips can prevent a fire.
Although Christmas tree fires are not common, when they do occur, they are much more likely to cause fatalities than most other fires.  Nearly one of every three home Christmas tree fires are caused by electrical problems.  In one-quarter of the Christmas tree fires and two-thirds of the deaths, some type of heat source, such as a candle or equipment, was too close to the tree.  Nearly half of all decoration fires happen because decorations are placed too close to a heat source.  Two of every five home decoration fires are started by candles.  Click here to Read More...
 
New Fire Safety Requirements:
Did you know..?
In August 2016, the San Francisco Board of Supervisors passed new legislation aimed at promoting fire and life safety, reducing the risk of fires, and preventing property damage from fires.  These laws establish new requirements for the owners of residential buildings.  Requirements vary based on the number of building residential units and fire alarm system requirements of existing buildings.  Non-compliance with these new fire safety requirements may lead to violations of the San Francisco Fire Code. 
The San Francisco Fire Department is here to help building residents/tenants understand the new requirements enacted by the San Francisco Supervisors.  Details of the requirements are provided below.
Annual Smoke Alarm Information Notice
List of Tenant's Rights Organizations
Tenant Fire Safety Disclosure Information
Search Your Address for More Information:
[COMING SOON]
 
For more information, go to: www.sf-fire.org/new-fire-safety-requirements-building-owners 
 
Monthly Fire Safety Tips (continued):
U.S. fire departments responded to an estimated average of 210 home structure fires per year that began with Christmas trees in 2009-2013.  These fires caused an annual average of seven civilian deaths, 19 civilian injuries and $17.5 million in direct property damage.  On average, one of every 31 reported home Christmas tree fires resulted in a death, compared to an average of one death per 144 total reported home fires.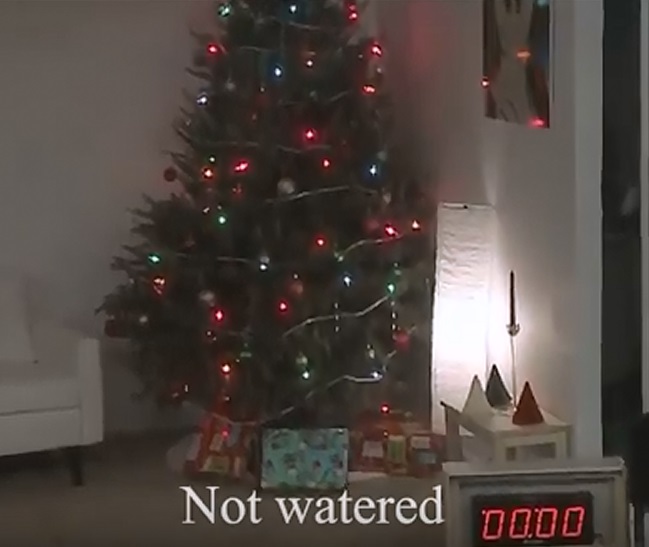 Lighting:  Keep lit candles away from decorations and other things that can burn.  Use battery operated flameless candles instead.  Use lights that are listed by a qualified testing laboratory, inspect holiday lights each year before you put them up and throw away light strands with frayed or pinched wires.
Tree Care:  Choose a tree with fresh green needles that do not fall off when touched.  Use a stand with a large water reservoir for the tree to drink.  Before placing the tree in the stand, cut two inches from the base of the trunk.  Water the tree daily as large trees may drink several quarts daily.  Never let the water fall below the cut line of the tree or the cut may form a seal that can prevent the tree from drinking.
Click on the link below for a demonstration of a dry Christmas tree fire: Christmas tree fires can turn devastating and deadly within seconds (external link)
Kitchen Safety:  Cooking becomes more prevalent during the holidays and cooking fires are the number one cause of home fires and home injuries.  For this reason, stay in the kitchen when you are cooking on the stovetop so you can keep an eye on the food, and stay in the home when cooking a turkey and check on it frequently.  The stove will be hot so keep children at least three feet away from the stove and keep your pot handles turned in towards the counter.  Any small burns should be cooled with cold water immediately and continuously for five minutes. 
For more information on holiday fire safety please visit the San Francisco Fire Department's web site at: sf-fire.org/your-safety
For Christmas tree use in regulated occupancies please refer to the SFFD Division of Fire Prevention & Investigation's Information Bulletin: Use of Christmas Trees in Regulated Occupancies (PDF)