About the Airport Division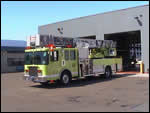 The San Francisco International Airport (SFO) is approximately 13 miles south of the City of San Francisco and covers over five square miles. By passenger traffic, SFO is the 10th busiest airport in the United States and the 25th busiest airport in the world, handling over half a million passengers each week. The Airport averages over 1,000 flight operations per day. Within its boundaries are three domestic terminals, an International Terminal Building, a United Airlines Maintenance Operation Center,six parking garages, several cargo buildings, one BART Station, over six miles of AirTrain track, nine AirTrain Stations, and a United States Postal Service facility. The International Terminal is the largest international terminal in North America.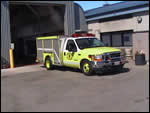 The Airport Division is responsible for providing fire protection, water rescue operation, fire prevention, code enforcement, emergency medical services, hazardous materials abatement, community-based fire safety, fire extinguisher training, CPR, and Automatic External Defibrillator (AED) training & re-certification
to the San Francisco International Airport community.

The Airport Division has 95 employees, and staffs three (3) Fire Stations. Station #1 is located "street side" and is at the west end of the two longest runways. Station #2 is located at the intersection of the four runways that serve the Airport. Station #3 is also located "street side" but at the south end of the two shorter runways.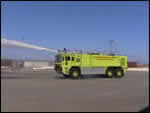 In addition to a Fire Prevention Unit and Administrative/Support staff, the Airport's Suppression members staff four (4) Aircraft Rescue Firefighting Vehicles, which are commonly referred to as ARFF Units. These vehicles provide the Airport's primary response to incidents involving aircraft and/or fuel. Three (3) of the ARFF Units are capable of deploying 4,500 gallons of foam each. The fourth ARFF Unit has a capability of deploying 3,000 gallons of water & foam. The Airport Division also staffs two (2) Engines, one (1) Truck, two (2) Paramedic Units, and a Command Unit. These units respond to structure fires, vehicle fires, vehicle accidents, building alarms, industrial accidents, rescue calls, and medical dispatches. The Airport Division additionally has four (4) watercraft. As of June 2012, these units are located at the new boathouse that the San Francisco International Airport has opened near Sea Plane Harbor. From this new location, Water Rescue vehicles have the ability to respond to emergencies 20 minutes faster than before. This Emergency Water Rescue Facility is believed to be the only one of its kind at West Coast airports.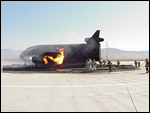 Aircraft Rescue & Firefighting operations are regulated by the Federal Aviation
Administration (FAA). All Airport Division personnel are certified annually by the
FAA, and attend annual live fire burn training. Members are currently preparing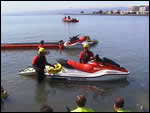 for the arrival of new and larger aircraft, including the Airbus A380 that holds over 500 passengers.

In order to provide a high level of service in dealing with incidents involving Hazardous Materials and Water Rescue, all Airport Division members are Hazardous Materials Technicians and most are Bay Water Rescue qualified.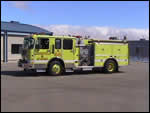 The Airport Division trains and coordinates with fire departments from San Mateo County, including Millbrae, Burlingame, Daly City, South San Francisco and San Bruno. Units from these agencies respond to the Airport, along with SFFD Units from the City, during Mutual Aid Requests.