Contact the Commission
By Charter mandate, the Fire Commission enacts policy and provides oversight for the San Francisco Fire Department. The Commission welcomes comments and input regarding matters within its jurisdiction.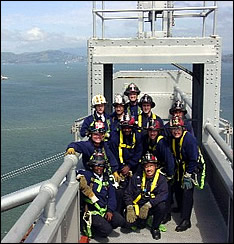 In Person - during public comment at each of its regularly scheduled meetings
By US Mail - address: San Francisco Fire Commission, 698 Second Street, San Francisco, CA 94107
By Telephone - Contact the Fire Commission Secretary concerning Fire Commission matters at (415) 558-3451
By Email - Provide public comment or send a message to the Fire Commission at: Fire.Commission@sfgov.org.
Personal information that is provided in communications to the San Francisco Fire Commission is subject to disclosure under the California Public Records Act and the San Francisco Sunshine Ordinance. Personal information provided will not be redacted unless specifically requested to do so.
If you wish to file a claim if involved in an accident or for other damages, please go to the following webpage for instructions:
If you wish to report a fire safety concern, please go to the following webpage for instructions: