Wooden Ladders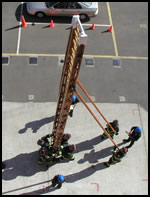 Rich in tradition, the San Francisco Fire Department is one of a handful of Fire Departments nationwide that still uses wooden ladders. SFFD is, however, the only Fire Department that uses custom built, handcrafted wooden ladders. City workers build and restore the 350 wooden ladders used by the San Francisco firefighters in a city fabrication shop located in the Bayview district of San Francisco.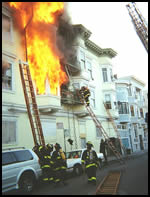 San Francisco has many high-voltage overhead wires. Wooden ladders are preferred because they don't conduct electricity. Crafted from aged ash, Douglas fir and hickory woods, these ladders are sturdier and last longer.
The largest ladder made by the artisans is 50 feet, weighs 350 pounds and takes six firefighters to lift. Raising of the 50ft. wooden ladder, an art in and of itself, is done frequently as firefighters respond to many fire calls each day.
 
Watch a video about the making of SFFD's wooden ladders:
 
"Inside the Ladder Shop at the San Francisco Fire Department"
(this links to a video that is not produced by SFFD; the video is on an external independent website)
For more information, refer to the following articles on the topic of wooden ladders: