Report a Leaking Fire Hydrant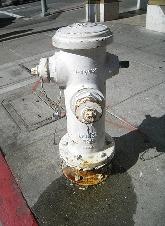 If you notice a leaking fire hydrant in San Francisco, please report it AS SOON AS POSSIBLE by contacting SF311.
Dial 3-1-1, or report the leaking hydrant via SF311's on-line Service Request Form.

On the Service Request Details window, please type "LEAKING HYDRANT" in the Additional Request Details section, and be sure to describe the exact location of the hydrant in the Location Description section.
However, if an unattended fire hydrant is broken, gushing water, or leaking profusely, CALL 9-1-1 IMMEDIATELY
Thank you for your assistance in saving the City's valuable water resources!