In Tribute to Our Fallen Hero: FF Christopher G. Yock
With a heavy heart, we report the passing of San Francisco Fire Department Firefighter Christopher Yock. He died on Tuesday, June 8, 2021, after fighting a large fire at the San Francisco International Airport parking structure.
Firefighter Yock has been a valued member of the San Francisco Fire Department since April 17, 2000. He worked as a firefighter most of his career at Station 10, serving the Richmond District of San Francisco, and transferred to Truck 48 as a dedicated member at the San Francisco International Airport in January of 2019.
At 630 a.m., Firefighter Yock and numerous fellow firefighters responded to a conflagration at the San Francisco International Airport. Firefighter Yock and fellow firefighters worked hard to attack and extinguish the fire, which occurred on the 4th floor of a parking structure and involved over six vehicles. Unfortunately, after returning home from the incident, he suffered a medical emergency and passed away. He is survived by his son Cayden, his brother Jefferey, his sister Jennifer and extended family.
Christopher was born on December 27, 1963, in San Francisco, CA. His love for "The City" was a constant throughout his life, from his immense knowledge of the best local eateries to ultimately becoming a public servant as a Firefighter for the San Francisco Fire Department.
Christopher was born to Jimmy and Anita Yock. He grew up in the Westborough neighborhood of South San Francisco. 
Christopher began his journey in the fire service as a Firefighter at the Alameda Naval Airbase Station, followed by the Presidio Fire Department, before finally achieving his dream career as a Firefighter for the San Francisco Fire Department. Christopher loved his career in the fire service and was a beloved firehouse chef who prepared excellent meals with infectious happiness.
Christopher lived a full and vibrant life, undeniably meeting and making lifelong friends along the way. For anyone who knew Christopher, they knew his immense happiness and passion for traveling, cooking, photography, and music. Christopher was a seasoned world traveler, with some of his favorite destinations being Palau, Porto, Maldives, Tahiti, Bali, and numerous Maui family trips.
For all his noted passions in life, Christopher's greatest happiness and source of pride was his son, Cayden Yock. Christopher was known for always proudly referring to Cayden as "my son" with a beaming smile. Christopher and Cayden loved to spend their time together riding mountain bikes, going to swim meets, taking road trips, and weekend drives in Christopher's beloved Alfa Romeo Spider.
Christopher loved to live life to its fullest, and he lived to love his family and friends. Family was his priority in life. Christopher was the DJ with a never-ending playlist at every family gathering, along with a cooler filled with an eclectic mix of San Francisco culinary treats and drinks. His photography skills have captured countless family memories and will be cherished by his family for generations to come.
Christopher is survived by his siblings, Jeffery Yock and Jennifer Yock-Lanthier, his son, Cayden Yock (Nancy Galvin), his brother-in-law, Sean Lanthier, and his nephew and nieces, Danielle Gracia, Alyssa Sozio, Adam Lanthier, and Ashley Yock.
The family and the San Francisco Fire Department extend their gratitude to the San Rafael Fire Department E-57C for their heroic efforts.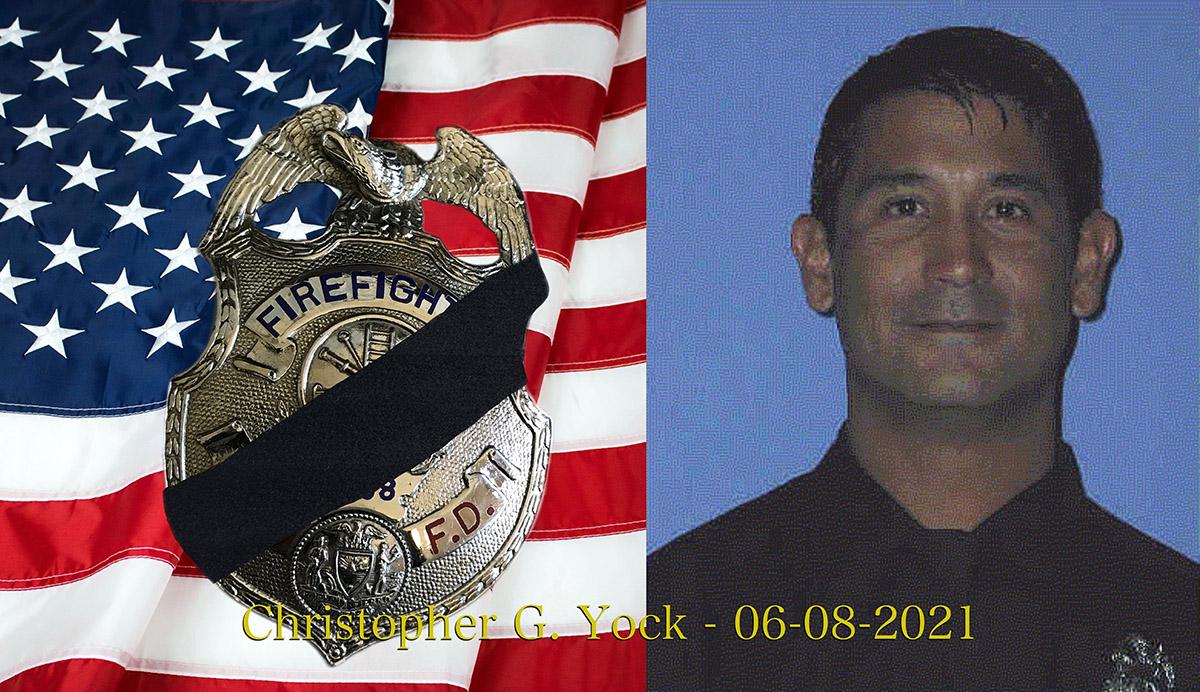 ---
San Francisco Fire Fighters Local 798 has established an account at the San Francisco Fire Credit Union (SFFCU) for the Yock family. The Yock family intends to use the funds for Caiden's (Chris's son) future education costs.
Funds to this account can be donated by: 
MAIL: Specifically Requested by Duggan's
SF Fire Credit Union
3201 California Street
San Francisco, CA 94118
ATTN: Yock Family Donation 
ELECTRONIC: MEMBERS OF SF FIRE CREDIT UNION
Using the "Transfer Tool" to ANOTHER SF FIRE CREDIT UNION MEMBER:
    Last Name (Of Recipient – Note Capitalization and Spacing): SF Fire
    Account Type: Share Account
    Recipient's Member Number: 175373
    Recipient's Share ID: 3003
ELECTRONIC: NON-MEMBERS OF SF FIRE CREDIT UNION
If you'd like to send a donation from another financial institution to this account, the following information should be required/sufficient:
    Name: San Francisco Fire Credit Union
    Routing Number: 321076506
    Account Number: 75600494927577
IN PERSON:
Any SF Fire Credit Union Branch – Monday through Friday 8.30 to 6PM, Saturday 8:30 to 3PM:
3201 California Street, SF (Presidio Heights)
565 Buckingham Way, SF (Adjacent to Stonestown Galleria)
12 Mint Plaza, SF (Downtown/SOMA)